The heavenly beautiful Thai girl in traditional costume inside the bright lights posted a picture is easy to see across the travel magazines, posters every November when approached. It is a sign that the upcoming Loy Krathong.
Thailand travel
amazed me like that!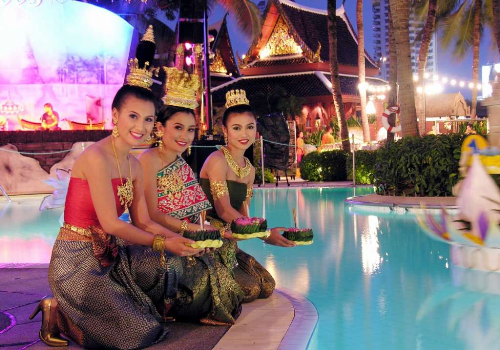 In Thai, Loy means "drop" and Krathong means "flower lights" is decorated with lotus-shaped banana leaves, flowers, candles and incense. Loy Krathong usually takes place on the full moon night of the 12th calendar month of Thai, which at about 11 months of the calendar. This year, Loy Krathong will take place on 6/11, but in many places, the official ceremony of the festival takes place from 5 - 7/11.
The purpose of the
Loy Krathong festival
is a tribute to the water goddess gave people ample water and pray absolution for action muddied the water. The flower drop lights is also a way to ward off bad luck in the past and may in the future blessings. Many believe that if the candle is still not off until "krathong" out of sight, then that wish will come true. Besides ceremonial flower drop lights, many other fun activities are also taking place during the Loy Krathong festival such as lights Krathong contest, beauty pageant Noppamas, folk games, performances arts and fireworks ...
If you go to
northern Thailand
, you can admire the spectacular scene of the Loy Krathong festival in
Chiang Mai
with active drop millions of sun lamps that people here are known as Yee Peng festival. You can also visit Tak province, where thousands of candles lit the lights posted Ping river. Then close up the lantern lamp made from banana tree trunks 100,000
Samut Songkram
province. Special festive image reproduction brilliant heyday of the ancient capital of Ayutthaya kingdom in Sukhothai province or in a variety of activities beauty queens parade, chandeliers, fireworks display, technology traditional arts and reproduction of activity floating market, local market ...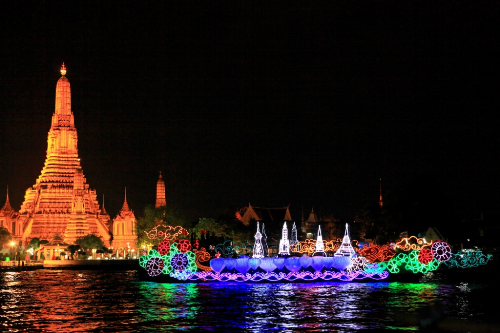 As to the "
City of Angels
"
Bangkok
, you'll blink is the beautiful pictures recorded shining moments of poetic Chao Phraya River, where the operation took place flower drop lights, lantern procession of boats people of the capital. Many places in the city are displayed brilliant red lantern show joyful spirit of the people celebrating the festival. You can choose to enjoy the flower festival on a cruise along the river candlelit, with relatives delicious dinner of culinary origin attended the Golden Temple or drop lights posted prayers along the
Chao Phraya river
and at a few hotel pools along the river.